A HOSPITAL THAT IS REDEFINING HEALTHCARE IN INDIA !
While it's pretty common for heritage buildings or other architectural marvels to become a landmark in any city, it's not often that a hospital becomes a talking point. But that's exactly what the city-based Welcare Hospital has managed to achieve, thanks to the visionary leadership of its director Dr. Bharat Mody, who is also the chief joint replacement surgeon of the hospital.
In fact, this multi super-specialty hospital at Atladara is so well-planned that it has got hospital planners from different corners of the globe queuing up to take a look. Recently, the VP of Valiance, a well-known USA based chain which is looking at getting into the healthcare segment in India, visited the hospital to get an idea and their team was thrilled with what they saw! In fact, they were heard saying that Welcare Hospital has set new benchmarks in hospital planning in India.
Usually, when one chooses a hospital, only some clichéd factors like hygiene, behaviour of staff, word-of-mouth-publicity and cost are taken into account by the patients/their relatives. However, a visit to Welcare makes you realize that there is so much more that we should consider while evaluating hospitals. Started in 1999, its humble beginnings have now given way to a majestic, well-designed structure spread over four acres with the best of facilities, which will remind you of the kind of healthcare services you get to watch in Hollywood blockbusters. Dr. Bharat Mody is a trusted name in hip and knee-joint surgery (MCh from England, Fellowship from Harvard University and president of Indian Arthroplasty Association, 2014-15), who was invited to the Vibrant Gujarat Summit in 2009. This hospital is an important pillar from the point of view of medical tourism too. It was chosen as one of the signatory project for the Vibrant Summit by the Gujarat CM Narendra Modi's team.
ACCOMPANYING RELATIVES ROOM
The rooms here are designed in such a way that relatives can stay along with patients, helping them avoid extra cost of hotel stay. Hospital charges are reasonable too, so as to fit the middle class. Radiology, laboratory and emergency sections are equipped with all modern medicine techniques and amenities from the perspective of medical science and requirement. It's hardly surprising that lots of international patients come here too. Things like separate entry for emergency cases to save precious seconds and a cafeteria for the relatives of patients make this hospital very unique. Here's taking a look at factors that make the 110 bed Welcare Hospital stand a class apart: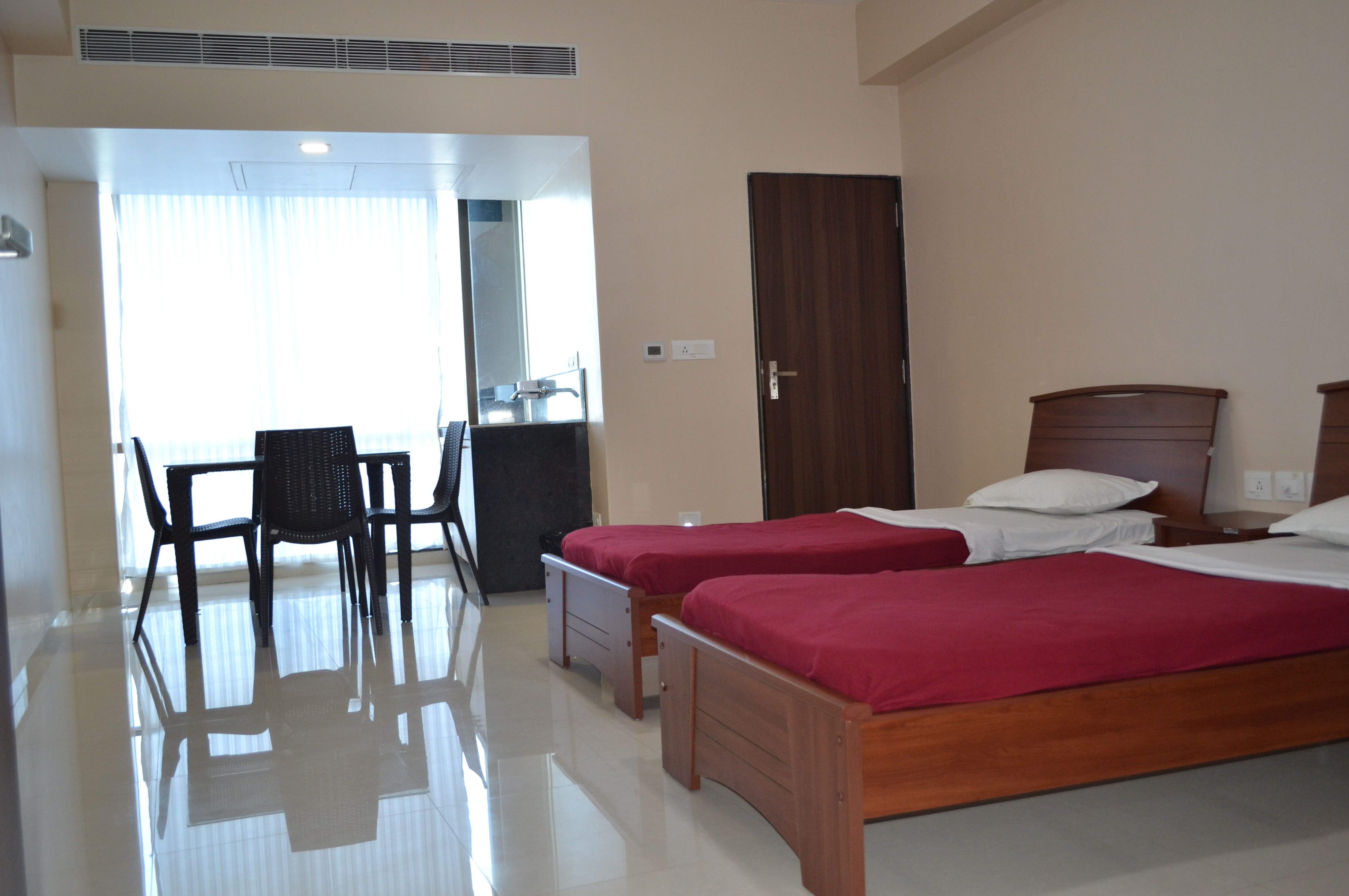 PURE AIR
To start with, there is absolutely no typical hospital smell once you enter the premises. "A hospital is like a museum of germs and the key is to make sure that bacteria do not affect patients" says Dr. Mody. There is a unique mechanism to filter the air to prevent cross-infection and dilute the bacteria load. The AC and entire air-handling system of the building is designed in such a way that it filters air up to 5 microns and up to 0.3 microns inside operation theatres (OTs). While most hospitals look at comfort air-conditioning to save cost, over Rs 2 cr. has been invested at Welcare for air quality control, which is about five times of what going for just comfort air-conditioning would have cost!
The hospital has conducted over 2000 major surgeries in the last one year, without a single case of infection. The 0% infection rate in operated patients is one of the biggest USPs of the hospital. All four OTs are zero bacteria OTs, meaning zero infection rates. Says Dr. Mody, "No matter how well a surgery has been done, the surgeon has no control in cases of infection, which depends on quality of air at the hospital. We have made sure not to compromise one bit on that front."
ELECTRICAL ASPECTS
Taking a lesson from Kolkata's infamous AMRI Hospital fire, ZHFR (Zero Halogen Flame Retardant) electrical cables have been used here, which are usually used at airports and military installations. Says Dr. Mody, "We chose to do this because about 70% of fires in public buildings occur due to electrical malfunction."
PLUMBING
To avoid risk of infection, entire water supply system for toilet and wash basin is completely different.
DIGITAL BLANKET
The hospital is so well-equipped technologically that images of live surgery can be broadcast anywhere in the world. It is used for teaching, data recording, and processing of information also. The entire hospital is Wi-Fi enabled.
POST-OPERATIVE CARE AND NURSE CALL SYSTEM
There are highly trained nurses to take care of the patients. The NCS (Nurse Call System) is a unique feature, where once a patient presses a button, the nurse has to attend the call because it can't be switched off until she reaches the patient's bed. Moreover, if a call is not cleared within three minutes, a SMS goes to the operation manager and in another two minutes, straight to the director! Adds Dr. Mody, "There's also provision for making emergency calls from the bathroom. We have left no stone unturned to harness technology for good use. The average time to attend calls is 43 seconds, which speaks volumes about the efficiency of our nurses."
The 16 bed intensive care unit is specially designed and technologically very well-equipped. So, even if a doctor is abroad, live streaming of vital data is made possible through his Smartphone. Even the isolation room is unique because here, only the air is isolated with the help of a glass cabin. Says Dr. Mody, "Psychologically, this helps because the patient doesn't feel isolated in his mind. Besides, if a relative can't visit a recovering patient at the ICU, there's a facility of video conferencing to make the patient feel better." At the ICU, the exhaled air goes directly out of the hospital. There are beds (imported from Midmark, USA) which can be moved 90 degrees using remote control, so that immobile patients can be fed easily. When patients sleep for long hours, rashes happen on the back, which are called bed sores. To avoid that, Swiss technology made foam mattresses are installed here, which ensure proper blood circulation to all body parts.
OPERATION THEATER
All the four OTs are digitally controlled with a digital panel, and outside air can't enter. The involvement of Italian giants Nicomac for clean air facility (their first tryst with hospitals) has made sure that there's no chance for any bacteria to grow. OT doors are operated automatically through sensors to negate chances of infection (German technology, no contact of hands is required for opening or closing the doors) and there's digital climatic control and use of smart lights too, making these OTs among the very best in entire India. Thanks to the smart lighting system, even if a surgeon'shead or hands create shadows while operating, the other corners are illuminated more automatically to ensure proper functioning.
THE JOURNEY OF WELCARE HOSPITAL